It's been a long year, but it's gone by in a flash. Endless, yet fleeting. Is it just me? I don't think so.
I am experiencing a range of feelings as I prepare this final blog entry. Thomas Wilder once said, "It is hard to turn the page when you know someone won't be in the next chapter, but the story must go on." I suspect he was referring to me when he made this statement. It is difficult to imagine 2023 without the SAYAS blog community – the bloggers was a constant during 2022's chaos. I have no words to adequately express my gratitude for your kindness and support.
I feel like I have been splashing in the shallow area of the pool for a very long time. When I finally transitioned from the shallow area to the real deep end of the pool in 2022, it was a significant milestone. Being immersed in academic life at first seemed weird, strangely alien, and even a little unsettling. I officially obtained my PhD in 2022, commenced my early research career, and entered the world of academia. And as the year went on, I adjusted and developed a degree of confidence I had never before imagined. And I love it. I don't want to leave the water at any point.
When I consider 2022 and the lessons I acquired from navigating my way between the shallow end and the deep end of the pool, three important survival skills come to mind:
#1 – Getting comfortable in the deep water:
Being in the deep end initially felt uneasy and even made me a little anxious. DuPage Swimming Centre writes that one must spend enough time in the water to become accustomed and develop confidence. This year, I've realized that even though l enjoy spending time in the water, it could also be draining and full of unpleasant surprises. At times, I make the necessary preparations, get ready, meet deadlines, and then get surprised by what may end up being a lengthy, major delay brought on by circumstances that are beyond my control. Combining this "hurry-up-and-wait" approach with one of those all-to-familiar "try, try, again" (and again, and sometimes again) scenarios can often be demotivating. During these experiences, many students, researchers, and academics simply get out of the water.
However, the Aquazone blog cites the advantages of staying in the water, and I wholeheartedly concur. Even though it may be more difficult to stay motivated on such days, it is all about the journey. I believe that these difficulties are merely moments (mosaic fragments) in the grand scheme of things. Our abilities and confidence will keep improving as long as we feel at ease in the water and keep swimming.
#2 – Celebrating successes
The Hubbard Family Swim School blogs about the value of celebrating swimming milestones and adds that all accomplishments should be recognised. In a similar vein, I think we ought to acknowledge our academic achievements more frequently. Being a postgraduate student, early-career researcher, or academic is challenging in and of itself, and is sometimes accompanied by thoughts of imposter syndrome and self-doubt. However, we still persist, come what may.
If I were to compare myself to the person I was five years ago, I would see that hard work pays off and that both my personal and professional life had changed and grown. If you were to compare your current state with that of a version of yourself from five years ago, I'm fairly confident that you would report the same. It's okay to sometimes need more time to solve problems. But, we should not be so hard on ourselves and be proud of how far we have come. In this ever-changing era, we need to own our journey and celebrate success.
#3 – Don't swim alone
My mind is shifting to all the books and films, where friends are drifting in the pool, sipping mojitos, and enjoying each other's company!
When I started on my academic, research and blogging journey, the last thing on my mind was to make friends, or to form part of a community. It's not that I did not want to make friends, it's probably more of a goal-orientated thing. Almost a year later, my mindset shifted to the point where networking became a vital part of this process. I've learned that academia can be very alone and that relationships among academics can strengthen each other. Scientific careers shifts over time, attracting individuals of all ages, abilities, talents, and motives, there are a wide variety of individuals who can swim with you.
Although being vulnerable and peeking into this new world can be difficult at times, doing so can open up a whole new world for you. Rockhampton Aquatic explains that swimming with others keeps you accountable, fosters relationships, is great for socializing, and challenges you while you pick up new abilities. Never again will I go swimming alone!
I will carry these three lessons with me into 2023 because they have been so meaningful to me. As we enter the FESTIVE SEASON, I hope all of you will enjoy the break from work and school. Natalie Theodosi claims that this time of year is also used to pause, take stock of, and delve a little deeper into our own experiences. Whatever this time is for you, I wish you all the very best.
Lastly, hang in there, everything will be fine! Good luck with your studies, and your work. I'm rooting for you.
Best
Luce. Someone like you.
(with a lot of sparkle)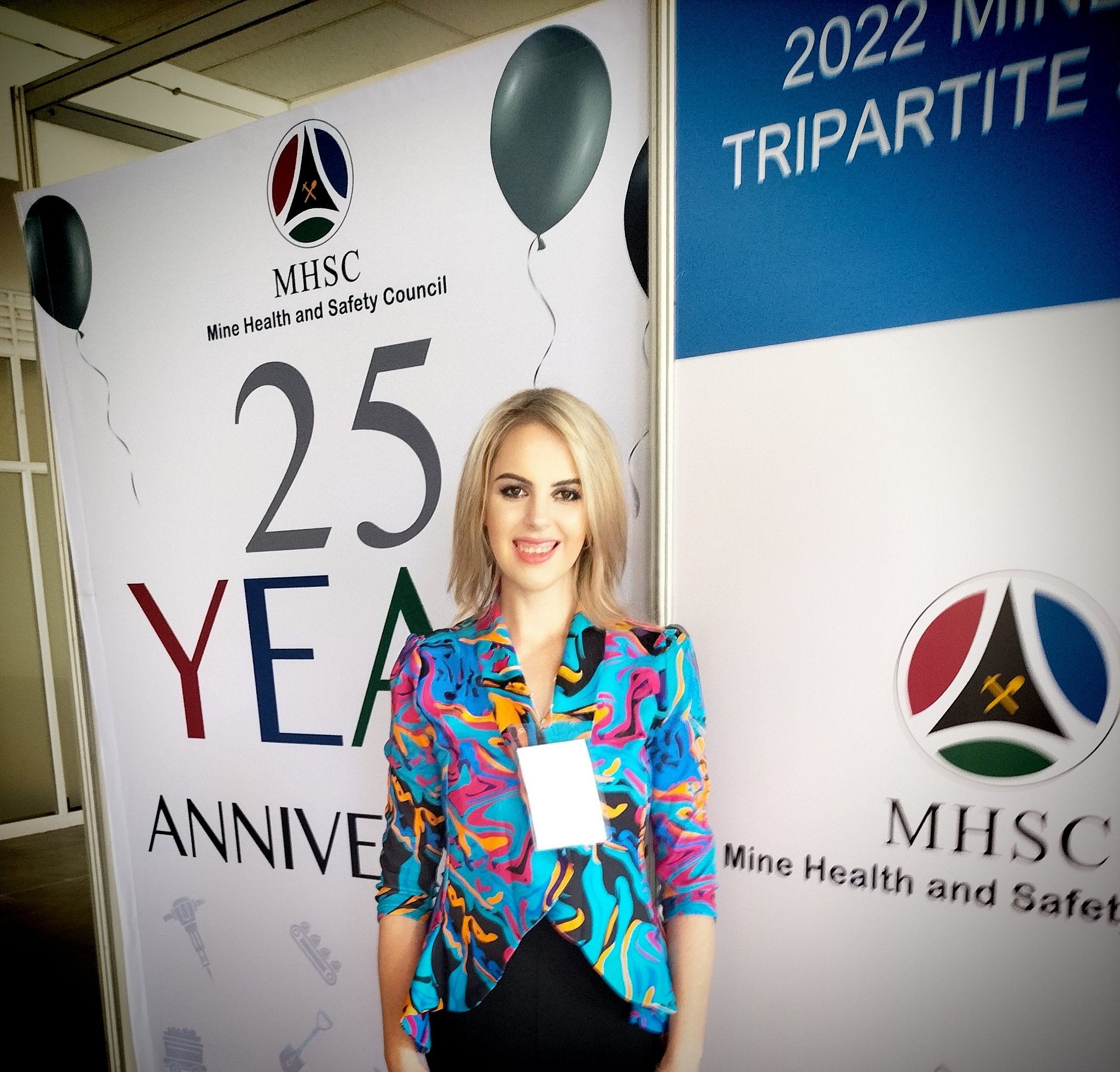 Luce Pretorius at the Mine Health and Safety Council (MHSC) Tripartite Summit where she presented a session on mental health in the workplace.